No. 8 joining Johnstown's elite
| | |
| --- | --- |
| By MIKE MASTOVICH, THE TRIBUNE-DEMOCRAT | October 12, 2003 |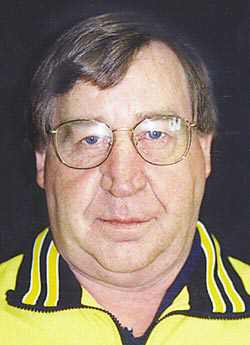 For eight seasons and 561 games, No. 8 was the Johnstown Jets' No. 1 ambassador on the ice.
Galen Head, the prolific scorer, team leader, gentleman and all-around good guy, represented the Jets as a star player, team captain and player-coach.
The Grand Prairie, Alberta, native who eventually made Johnstown his home captained the city's last professional hockey championship team, the renown 1974-75 Jets squad that inspired the motion picture "Slap Shot."
All of those facts certainly justify the ECHL Johnstown Chiefs' decision to retire Head's No. 8 uniform, making Head, 56, only the third former Johnstown hockey player honored in such a manner and the first since both Don Hall and Dick Roberge had their No. 9 and No. 11 jerseys retired in the 1990-91 season.
But there are so many more reasons Head merits this recognition.
He's been a volunteer assistant coach of the Chiefs since 1997-98, offering expertise, experience and game-night scouting reports to three different head coaches, Nick Fotiu, Scott Allen and Toby O'Brien.
Head's impact as a coach and role model has been even more significant at the high school level, where he helped start the Bishop McCort program in 1985-86 and spent 11 seasons with the Crimson Crushers, leading his team to three straight Class A state championships before retiring in 1996.
"I think it's an honor that is both worthy and overdue," O'Brien said prior to the Chiefs exhibition tournament with Roanoke and Wheeling yesterday at Cambria County War Memorial Arena. "The Jets, Bishop McCort, the Chiefs, the student hockey league. We just felt it was right to retire the No. 8 because of all of those associations and what Galen has meant to the Greater Johnstown hockey community.
"Unlike the other two numbers, who are great players and great people and represented the Jets and the city of Johnstown in a great manner, Galen crossed several generations of hockey in our community. It's an honor and a pleasure to have him involved in our organization now."
Head's impact as a player with the Jets was remarkable.
The 5-foot-9, 160-pound right wing broke into the organization in .1967-68 in the former Eastern Hockey League. As a rookie, Head scored 53 goals and 105 points in 70 games.
That same season, he earned a brief call up to the National Hockey League Detroit Red Wings. Officially, Head appeared in one NHL game.
His best season in Johnstown was in 1968-69, when Head scored 67 goals and 121 points. His 67 regular-season goals and 69 goals including the playoffs were Johnstown franchise records that stood until the Chiefs' Mark Green scored 68 and 70 in 1991-92.
Head played 43 games for the Salt Lake Golden Eagles in the former Western Hockey League in 1969-70. A shattered cheekbone injury cut short his season and many believe prevented Head from making a return to the NHL.
He rejoined the Jets in 1970-71 and played the next six seasons with Johnstown.
Head's 308 goals rank third all-time in Johnstown history, and his 601 points rank fourth. He also had 293 assists, sixth all-time.
That background made Head a natural to coach the Crushers high school team. His program was .134-98-9 and won Pennsylvania Cups in 1994, 1995 and 1996.
"No question, Galen has got hockey to the level that it's at in the Johnstown area, not only as a player but certainly as a coach. Everything he has done in his involvement in hockey has been tremendous," said current McCort coach John Bradley, who was an assistant under Head before taking the top job. "I've never seen him play, but from what I've heard around town, he probably was one of the best to play here. As far as coaching, there's probably no one else in town with his knowledge of hockey. Nobody.
"He was the type of guy kids wanted to play for. He was a real good guy as a coach. He is special. He is one of a kind. Gordie Howe may be Mr. Hockey. But Galen Head is Johnstown's version of Mr. Hockey."
Head joins an elite club. Hall, known as Jet 9, had 393 goals, 585 assists and 978 points in 667 games with Johnstown in the 1950s and early 1960s.
Roberge is professional hockey's all-time leading scorer with 1,699 points, 737 goals and 962 assists in 1,158 games during 17 seasons.
Hall, Roberge and Head are among the six inductees to the Johnstown Hockey Hall of Fame. Hall and Roberge are also members of the Cambria County Sports Hall of Fame.
"Even though he was not a Johnstown Chiefs player, we would like to recognize him by retiring that number for everything he has done for and brought to our organization," Chiefs General Manager Jim Brazill said.
The Galen Head Jr. Memorial Scholarship Fund honors Galen and Gracie Head's first son, who died tragically in an automobile accident in 1996.
Galen Jr. was the Chiefs' first trainer and was working for the International Hockey League's Fort Wayne Komets and headed to the Milwaukee Admirals at the time of his death.
The scholarship has financially assisted local hockey players pursue their college aspirations.
Head might not be a Johnstown native, but his bond to the community is evident.
"In this area not only is Galen recognized as a great hockey player and a great coach, but he's also recognized as one heck of a guy," Bradley said.
"He's special. He's a great guy and that's probably the most important thing.
"My own kids call him Pop Pop. My kids look at him as if he was their grandfather. He's a father figure to me. That's the type of guy he is."
The ceremony is set for Saturday.
©Tribune Democrat 2003