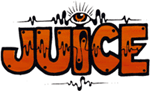 Somewhere in Baltimore there is a box of these CD's sitting around. This band broke up just a bit too early. Everyone who wanted a CD didn't really get one as the band broke up right when these were done. So they never really showed up in any of the local record stores.
I've decided to share it with everyone. These were some good tunes at the time, and some great shows to boot. If you were around Baltimore or Morgantown and were a fan, I'm sure you'll love to hear this stuff.
If you found this page via a search engine, send me your Juice memories!
By the way, I *still* have never gone to Elkins.
Update: 12-10-05 Josh put a Juice website online at: heavy30.com. He's selling what's left of the cd's. So if you want an actual copy of what's posted here, go get em!
(C)(P) 1995 Juice

Guitar - Kevin Beebe
Bass - Josh Bolton
Vocals - Kurt Reisenweber
Drums - Brent Knoechel

Recorded, mixed and mastered at High Heels Studios,
Baltimore, MD
Additional mastering at Hound Sound, Baltimore, MD
Produced by Juice and engineered by Adam Cooke
Additional recording assistance by Kendall King
Cover artwork and Art Direction by Kevin Beebe
Inside photos by Brian Lee, Live Photos by John La Veck
Armband - Josh

All songs were recorded in 1994 and
are copywritten by Juice.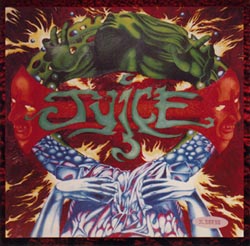 1: M
2: Apartment
3: The Ants
4: Still Left Hanging
5: Rumble Strip
6: Not Worth a Nickle
7: Into Being Mean
8: Trip The Lights... Fantastic

All Songs (c) Juice, inc. 1994
Videos: